Flipped Music Educators
Unleash the orchestra in your classroom
The Flipped Class String Orchestra series gives schools all the support they need to deliver amazing music programs on a minimal budget.
Flipped Music is a complete school-centred music learning system which:
achieves proven learning outcomes
is based on tried-and-true educational methodology
helps students of diverse learning abilities achieve their highest potential
inspires kids to want to stay back after school to play more!
With hundreds of hours of course content ready to teach out-of-the-box, Flipped will help your teaching team achieve outstanding musical outcomes.
Get your school ready to deliver a deeply engaging music program that students, parents and school boards all love.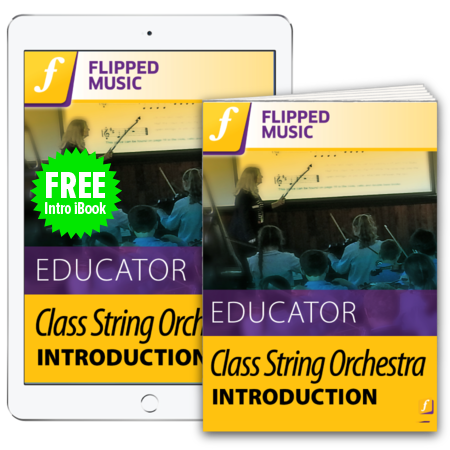 Powerful tools for music teachers
The Flipped Class String Orchestra Series is a highly cost-effective and low-risk way to launch your very own school hall symphony.
Each book contains clear instructions guiding you in logical order through the entire process of creating an orchestra – from positioning each group of instruments, to directing and conducting a roomful of young musicians.
The books also contain the resources you need to lead students through the Flipped Music student books relevant to their chosen instrument. They build their musical skills in their own time and at their own pace. Lesson time becomes free to help them refine techniques, build confidence in their skills, and enjoy the thrill of playing together.
The results can be outstanding. We've seen kids who were previously switched off in music class light up when they realised they were solving problems under their own steam. And we've seen end-of-term concerts that had parents and teachers in tears - for all the right reasons!
All books are available on Apple Book for iPad, and are supported by a full library of downloadable audio and video resources.
The first volume is completely free – so dive in and see what you could achieve.
Our Ensemble Packs are made for schools that are building or already run an established strings ensemble.
Each Ensemble Pack contains an iconic piece of music, fully arranged for school string orchestra – ready to teach and ready to play. You'll receive separate scores for double bass, cello, viola, and up to three violins, plus a complete Conductor's score.
With new pieces regularly being added to our library, Ensemble Packs are a fast and easy way to build your school's classical repertoire and keep students motivated.
Ensemble Packs come as a downloadable ZIP file containing everything an educator needs including audio tacks, printable sheet music (with the necessary licence), and a PDF guide for the educator. Simply buy from our catalogue, download and you're ready to go.
---
Tailored music solutions for your school
Expert implementation for music departments and special projects
Contact Flipped Music Director Phil Rooke to talk about how we can improve music learning outcomes in your school. Phil is a lifelong music educator. He has mentored teachers and advised leadership teams in schools and school networks of all shapes and sizes for 30 years.
Phil's goal in launching Flipped Music is to help teachers go beyond the role of "information tap", and towards a role as guides and coaches – helping students work through problems, building stronger relationships, and leading them towards completion of exciting projects.
Whether you'd like to pull off a full orchestral end-of-term concert, or even help your students create a brand new composition, Flipped Music can help make your vision come true.
Ask Phil about our flexible packages for schools, with options for:
Class delivery
Custom musical arrangements
Flexible pricing for bulk orders
Flexible licensing for photocopy reproduction
Experience the best in digital learning and the Flipped classroom.