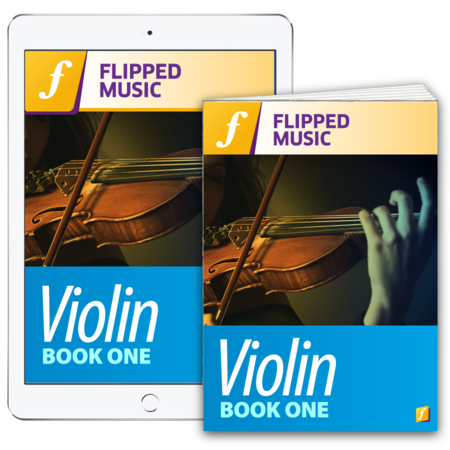 Violin Books & eBooks
Available as an iBook with embedded media - backing tracks and videos
or hardcopy book (Australia only) - access the quality backing tracks online and scan the QR codes to access the video tutorials for each lesson.
Fun and engaging lessons guide students through the fundamental techniques of how to play violin. We cover correct posture, playing technique, some simple music theory.
It's fun, it's interactive, and you can feel the progress you're making!
Flipped Music books feature:
Quality backing tracks - embedded in the iBook. In the hardcopy book, use the QR code or link to access our online MP3 library. Our backing tracks are recorded with REAL instruments and REAL musicians
Video tutorials for each lesson - embedded in the iBook - access with the QR code in the hardcopy books
Works seamlessly with school music programmes
Choose from iBook, or printed book.
"Ben picked up the violin on Tuesday morning. An hour after dinner we heard him play his first notes of Bach."
- Parent
Violin Book One
This introductory volume gives you all the techniques you need to begin learning the violin including:
How to tune a violin
Correct finger placement and bowing technique
Beginner-friendly arrangements of real classical music
Simple Open Strings and melody - students of different levels can play together
Simple tunes for you to play and practice
And much more!

---
Violin Book Two
The Flipped Strings Level 2 Books & iBooks features:
scales and technique for each piece in each key
each piece has both melody and ensemble parts. Students can play in any combination of duet, trio, quartet etc - making music together.
Unique Flipped Learning Media - students can watch a video score of the melody and ensemble parts - or even a video score for the whole ensemble
Students can play the melody part as a solo with the quality backing track
Accessing the backing tracks:
Hardcopy books - students scan the QR code in the front of the book or the download link
iBooks - the backing tracks are embedded in the iBook - just connect a speaker to your device and you have a virtual orchestra
How to Purchase - click on either the printed book "add button" below and go to the checkout OR click on the Apple Books Logo to go to the Apple Books Store
Hardcopy book (only available in Australia) $33 AUD including postage.
iBook - click on the Apple Logo below to go to the Apple Bookstore - $9.99 AUD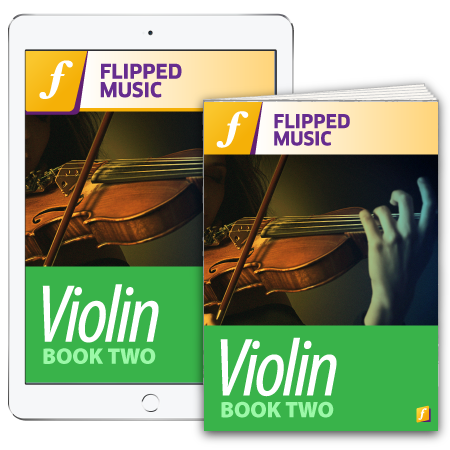 ---